Seligor's Castle, fun for all the children of the world.
The Young Ones
THE YOUNG ONES





 The Three Wishes.
Three girls sat idly on the beach ;
   One like a lily, tall and fair;
                                   One brilliant with her raven hair ;
                                                  One sweet and shy of speech.
"I wish for fame," the lily said,
                         "And I for wealth and courtly life,"
                                               Then gently spoke the third "as wife, 
                                        I ask for love instead."
Years passed. Again beside the sea.
                           Three women sat with whitened hair,
                                      Still graceful, lovable, and fair,
                                     And told their destiny.
"Fame is not all," the lily sighed ;
                       "Wealth futile if the heart be dead."
                                               "I have been loved," one sweetly said,
                                 And I am satisfied."



The Three Wishes - A Story

                    ONCE upon a time, and be sure 'twas a long time ago, there lived a poor woodman in a great forest, and every day of his life he went out to fell timber. So one day he started out, and the goodwife filled his wallet and slung his bottle on his back, that he might have meat and drink in the forest. He had marked out a huge old oak, which, thought he, would furnish many and many a good plank. And when he was come to it, he took his axe in his hand and swung it round his head as though he were minded to fell the tree at one stroke. But he hadn't given one blow, when what should he hear but the pitifullest entreating, and there stood before him a fairy who prayed and beseeched him to spare the tree. He was dazed, as you may fancy, with wonderment and affright, and he couldn't open his mouth to utter a word. But he found his tongue at last, and, 'Well,' said he, 'I'll e'en do as thou wishest.'
                   'You've done better for yourself than you know,' answered the fairy, 'and to show I'm not ungrateful, I'll grant you your next three wishes, be they what they may.' And therewith the fairy was no more to be seen, and the woodman slung his wallet over his shoulder and his bottle at his side, and off he started home.
                   But the way was long, and the poor man was regularly dazed with the wonderful thing that had befallen him, and when he got home there was nothing in his noddle but the wish to sit down and rest. Maybe, too, 'twas a trick of the fairy's. Who can tell? Anyhow, down he sat by the blazing fire, and as he sat he waxed hungry, though it was a long way off supper-time yet.
'Hasn't thou naught for supper, dame?' said he to his wife.
'Nay, not for a couple of hours yet,' said she.
'Ah!' groaned the woodman, 'I wish I'd a good link of black pudding here before me.'
No sooner had he said the word, when clatter, clatter, rustle, rustle, what should come down the chimney but a link of the finest black pudding the heart of man could wish for.
If the woodman stared, the goodwife stared three times as much. 'What's all this?' says she.
              Then all the morning's work came back to the woodman, and he told his tale right out, from beginning to end, and as he told it the goodwife glowered and glowered, and when he had made an end of it she burst out, 'Thou bee'st but a fool, Jan, thou bee'st but a fool; and I wish the pudding were at thy nose, I do indeed.'
       And before you could say Jack Robinson, there the Goodman sat and his nose was the longer for a noble link of black pudding.
     He gave a pull, but it stuck, and she gave a pull, but it stuck, and they both pulled till they had nigh pulled the nose off, but it stuck and stuck.
    'What's to be done now?' said he.
    "Tisn't so very unsightly,' said she, looking hard at him.
                 Then the woodman saw that if he wished, he must need wish in a hurry; and wish he did, that the black pudding might come off his nose. Well! there it lay in a dish on the table, and if the goodman and goodwife didn't ride in a golden coach, or dress in silk and satin, why, they had at least as fine a black pudding for their supper as the heart of man could desire.
SELIGOR'S CASTLE - THE YOUNG ONES
Flowers of Poetry - for young persons.
by Ann Taylor (30 January 1782 - 20 December 1866)
TO A DAISY
Little flower with starry brow, Slumbering in thy bed of snow;
Or with lightly tinged ray, Winter gone and storms away,
Peeping from thy couch of green With modest head and simple mien;
How I love to see thee lie, In thy low serenity,
Basking in the gladsome beam; Or, beside some murmuring stream
Gently bowing from thy nest, Greet the water's silver breast.
Or 'mid fissure of the rock, Hidden from the tempest's shock,
Vie with snowy lily's bell— Queen and fairy of the dell.
Thee nor wind nor storm can tear From thy lonely mountain lair;
Nor the sleety, sweeping rain Root thee from thy native plain.
Winter's cold, nor summer's heat, Blights thee in thy snug retreat;

Chill'd by snow or scorch'd by flame, Thou for ever art the same.
Type of truth, and emblem fair Of virtue struggling through despair,—
Close may sorrows hem it round, Troubles bend it to the ground,
Yet the soul within is calm, Dreads no anguish, fears no harm;
Conscious that the Hand which tries All its latent energies,
Can, with more than equal power, Bear it through temptation's hour,
Still the conflict, soothe its sighs, And plant it 'neath congenial skies.
Although this poem is "For the young ones" I think it will need an older child or adult to recite it.      I also think this picture of Ann Gilbert nee Taylor is beautiful.
SELIGOR'S CASTLE - THE YOUNG ONES
Little Things
Little drops of water, little grains of sand,
Make the mighty ocean and the beauteous land.
And the little moments, humble though they be,
Make the mighty ages of eternity.
So our little errors lead the soul away,
From the paths of virtue into sin to stray.
Little deeds of kindness, little words of love,
Make our earth an Eden, Like the heaven above

Simple Gifts
'Tis the gift to be simple, 'tis the gift to be free,
'Tis the gift to come down where we ought to be,
And when we find ourselves in the place just right,
'Twill be in the valley of love and delight.
When true simplicity is gained to bow and to bend
We sha'n't be ashamed,
To turn, turn will be our delight,
Till by turning, turning we come round right.

HERE IS A LITTLE QUIZ JUST FOR YOU
Does anyone remember what Little Bo Peep Lost ?

A.     Her Handbag.
B.     Her Crook.
C.     Her Sheep.
D.     Her way home.

What was the name of the little girl whose lamb followed her to school"?
  A.     Joanna.
   B.     Dorothy.
C.     Mary.
         D.   Gwendoline 

"What letter did the Baker's Man mark the cake with ?" Tommy asked.

1.  B     2.   P   3.   T    4.   D

More tomorrow, bed time for Diddily, tired - yawn, yawn, yawn, Night Night.

S

EL
IGOR'S CASTLE PRESENTS
A PAGE FULL OF TINY NURSERY RHYMES
FOR THE VERY YOUNG
Millions of massive raindrops have fallen on the ground;
They have danced on the house-tops, They have hiden in the ground.
They were liquid-like musicians, with anything for keys,
Beating tunes upon the windows, keeping time upon the trees.

You shall have an apple,    
   You shall have a plum,
You shall have a rattle-basket,
   When your dad comes home.   
A man in the wilderness asked of me
How many strawberries grew in the sea.
I answered him as I thought good:
As many red herrings grow in the wood.
See-saw, sacar
adown,
Which is the way to London
Town?
One foot up, and one foot down,
That is the way to London Town.
King Pippin built a fine new hall
    Pastry and pie-crust were the wall;
Windows made of black pudding and white
    Slates were pancakes - you ne'er saw the like.
When little Fred was called to bed he always acted right;
He kissed Mamma, and then Papa, and wished them both good-night.
He made no noise, like naughty boys, but gently went upstairs
Directly when he was sent, and always said his prayes;


FOR THE VERY YOUNG
My Shadow
by Robert Louis Stevenson
I have a little shadow that goes in and out with me, 
And what can be the use of him is more than I can see. 
He is very, very like me from the heels up to the head; 
And I see him jump before me, when I jump into my bed.
 

The funniest thing about him is the way he likes to grow--
Not at all like proper children, which is always very slow; 
For he sometimes shoots up taller like an india-rubber ball, 
And he sometimes goes so little that there's none of him at all. 




He hasn't got a notion of how children ought to play, 

And can only make a fool of me in every sort of way. 
He stays so close behind me, he's a coward you can see; 

I'd think shame to stick to nursie as that shadow sticks to me! 

One morning, very early, before the sun was up,
I rose and found the shining dew on every buttercup; 
But my lazy little shadow, like an arrant sleepy-head, 
Had stayed at home behind me and was fast asleep in bed.
THE MAN IN THE MOON
by Edith E Millard 1832 - 1891   

The Man in the Moon is a friend of mine,
He comes when the stars begin to shine:
I fancy he lights them, one by one,
And never rests till his work is done.


Sometimes I do not see him at all,
And I think, most likely, he has to call
And shout for the stars that would rather try
To play hide and seek in the big blue skies.

The other night, to my great surprise,
The Man in the Moon had tears in his eyes;
He looked so sad and his mouth drooped down,

And he gave me the most tremendous frown!


"Poor Man in the Moon, I am sorry!" I said,
"Have you lost some stars?" but he shook his head;
He could not tell me what was amiss,
So I waved my hand and threw him a kiss.

For more than a week there was rain or snow,
And the wind was very angry- I heard it blow;
But the Man in the Moon I could not see,
The dark clouds hid him away from me.


Last night he peeped through the window pane,
I declare I hardly knew him again!

I tried to sketch him for Nurse to see,
A jollier face there never could be.
His eyes were smiling at me like this,
And all because I threw him a kiss!

A wonderful poem about the wonderful Man in the Moon
by Edith E Millard.


Edith E. MILLARD was born on 23 Nov 1832 in Hamilton, Butler County, Ohio. She died on 25 Feb 1891 in Osceola, Iowa. Parents: John MILLARD Jr. and Sarah (Sallie) HALL.
She was married to Elijah Phillip GIBSON on 16 Mar 1854 in Marietta, Ohio. Children were: Daniel Millard GIBSON , Sallie M. GIBSON, Edith E. GIBSON, Harriet Isabel GIBSON.
LITTLE VERSES FOR VERY LITTLE PEOPLE
Hey didd
le, dinkety, poppety, pet
The merchants of London they wear scarlet;
Silk in th
e collar and gold in the hem,
So merrily march the merchantmen.

Little Robin Redbreast
Sat upon a rail;
Niddle naddle went his head
Wiggle waggle went his tail.

Once I saw a little bird come hop, hop, hop;

And I cried, Little bird, will you stop, stop, stop?
I was going to the window to say "How do you do?"
But she shook her little tail, and away she flew.
Cuckoo, cuckoo, cherry tree,
Catch a bird and give it me;
Let the tree be high or low,
Let it hail or rail or snow.
Oats and beans and barley grow
For you and me, as all of us know.
Thus the farmer sows his seeds,
Thus he stands and takes his ease;
Stamps his foot and slaps his hand,
And turns him round to view his land.
If Candlemas Day be bright and fair
Winter will have another flight
If on Candlemas Day be shower and rain
Winter is gone and will not come again.
There was an old woman sat spinning,
And that's th first beginning;
She had a calf, and that's half;
She took it by the tail and threw it over the wall,
And that's all.
Elizabeth, Elspeth, Betsy and Bess
They all went together to seek a birds nest;
They found a birds nest with five eggs in;
They all took one and left four in.
(ps. the little girls were the same

one

little girl called Elizabeth)

A, B, C, and D, pray, playmates, agree.
E, F, and G, well, so it shall be.
K, J, and L, in peace we will dwell.
M, N, and O, to play let us go.
P, Q, R, and S, love may we  possess.
W, X, and Y, will not quarrel or die.
X and Ampersand go to school at command.

Little Betty Blue, lost a holiday shoe;
What can little Betty Do?
Give her another, to match the other,
And then she may walk out in two.
Ride, baby ride! pretty baby shall ride,
And have a little puppy dog tied to her side,
And a little pussy cat tied to the other,
And always she shall ride to see her grand mother.


Oh rare Harry Parry, when will you marry?
When apples and pears are ripe.
I'll come to your wedding without any bidding,
And dance and sing all the night
Tommy Trot a man of law,
Sold his bed and lay upon straw;
Sold the straw and slept on grass,
To buy his wife a looking glass


One, two, three I love coffee,
Billy loves tea, how good you be.
One, two three,
I love coffee and Billy loves tea.


If I had some money I'd buy a clown;
If I had a horse I'd ride to town;
If I had a ship I'd Westward Ho,
And if I was sick I wouldn't go.


Pit, pat well a day
Little Robin flew away;
Where can little Robin be?
Gone into the cherry tree.

NURSERY RHYMES FOR DADDY !  
Hushabye, babby, lie still with thy daddy,
Thy mammy has gone to the mill
To get some wheat, to make some meal,
So pray, my dear babby, lie still.
If you are to be a gentleman,
As I suppose you be,
You'll neither laugh nor smile
For a tickling of the knee.


Peter
White will ne'er go right;
Would you know the reason why?
He follows his nose wherever he goes,

And that stands all awry.
I have a little husband and he is two feet four;
So he can reach the knocker, and ring at our front door.
But when we want our dinner he must take it down himself;

It's really very awkward when a wife can't reach the shelf.

Perhaps I shall grow bigger but this I surely know:
I cannot love him dearer if I grow, and grow, and grow!


Hush baby, my dolly, I pray you don't cry,
And I'll give you some bread and some milk by and by:
Or perhaps you like custard, or maybe a tart?
Then to either you're welcom, with all my heart.

I often sit and wish that I could be a kite up in the sky,
And ride upon the breeze, and go whatever way it chanced to blow;
Then I could look beyond the town, and see the river winding down,
follow all the ships that sail,
Like me, before the merry gale,
 Until at last with them I came
to some place with a foreign name.
Welcome to the MP3 player,
 where you might be able to find some songs and rhymes for the Children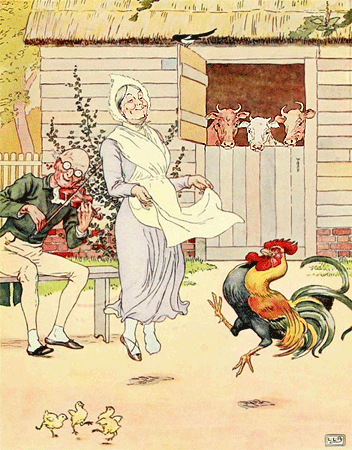 Cock-a-doodle-doo!
Cock-a-doodle-doo!
My dame has lost her shoe;
My master's lost his fiddling-stick,
And don't know what to do.
Cock-a-doodle-doo!
What is my dame to do?
Till master finds his fiddling-stick,
She'll dance without her shoe.
Cock-a-doodle-doo!
My dame has lost her shoe,
And master's found his fiddling-stick;
Sing doodle-doodle-doo!
I Love Little Pussy

I love little pussy, her coat is so warm,
And if I don't hurt her she'll do me no harm;
I won't pull her tail, nor drive her away,
But pussy and I together will play.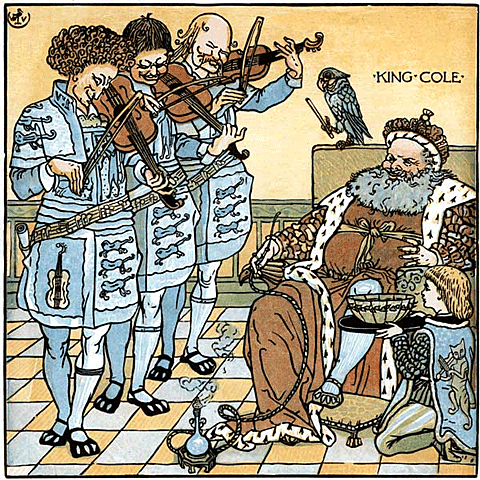 Old King Cole
Old King Cole
Was a merry old soul,
And a merry old soul was he.
He called for his pipe,
And he called for his bowl,
And he called for his fiddlers three.

Now every fiddler,  had a fine fiddle,
And a very fine fiddle had he.

Twee, tweedle, dee,
Tweedle, dee, dee,
Went the fiddlers three,
There's none so rare,  that can compare with King Cole and his Fiddlers three.

Oh there's none so rare
That can compare,
With King Cole and his fiddlers three.
One, two, three, four, five, 
             
               Once I caught a fish alive.
   
 Six, seven, eight, nine, ten,
             
Then I let him go again.
.

Why did you let him go,
Because he bit my finger so
Which finger did it bite,
This little finger on my right.
http://www.dadazi.net/                        
THE VERY YOUNG

The very young need special RHYMES.
Special  LOVE, Special times.
This page must be simple,
PRETTY, bright.
It must be canny and witty, full of Delight.
The very YOUNG sits on MUMMY's lap,
DADDY's knee, or in sisters arms,
The very young hears the GENTLE VOICE, 
The TINKLING LAUGH,
The  Elders CHARMS.
The very young need special Rhymes,
Special LOVE, Special TIMES.
Here are the Tiny Tots to share a few of their wonderful video's with you. xxx

It is always wise to check through all the video clips in the Menu for sometimes the odd strange one can get through and you mightn't want your littlest ones to see it.  The same applies to all video links really.
What amuses some cultures does not always amuse others. xxx
PORRIDGE
I don't like porridge,
Skinny and brown;
Waiting for breakfast,
When I com down -
Whatever happens,
However late,
Porridge is always
Sure to wait!
Nobody steals it,
They clear the dish
Of eggs and bacon,
Or cheese, or fish;
They eat the butter,
And take the tea,
And all the good things
Meant for me.
BUT
Whatever happens,
However late,
Porridge is always
 Sure to wait!

I believe this poem to be written by Elizabeth Fleming in the
Children's Companion circa 1920's

If you have any ide
as do leave a message for me a

t
dottido@hotmail.com


ROCK-A-BYE BABY
Hush-a-bye, baby, on the tree top!
When the wind blows the cradle will rock;
When the bough breaks the cradle will fall;
Down will come baby, bough, cradle and all.
Rock-a-bye, baby, thy cradle is green;
Father's a nobleman, Mother's a queen;
Sister's a lady, who wears a gold ring;
 And Brother's a drummer, who plays for the king.

Hush-a-bye, baby, way up on high;
Never mind, baby, Mommy is nigh;

Swinging the baby all around --
Hush-a-bye, baby, up hill and down.
Share                
Rain, Rain, go Away,
come again another day
Rain rain go away,
Come again another day
Hide your clouds  let out the sun
Slow the wind, till daylights done.
Rain, rain go away,
we all want to play today.

When we all are fast asleep
Across the night sky, you can creep
Rain, rain go away, 
come again another day.
Midi: Rain, Rain, Go Away
Diddilydiddlydeedot 2007
Round and Round the Garden
Like a Teddy Bear
One Step
Two Step
Here's comes Pooh the Bear
Round and Round the  Garden
Like a Little Frog
One Jump
Two Jump
Oops! he fell off his log
Round and Round the Garden
Like a Honey  Bee
One Sting
Two Sting
To many stings for me
Round and round the garden
Now it's time for bed
One nod,
Two nods
Shake your pretty head



Dottido 2007
This Little Piggy went to Market

This little piggy went to market

This little piggy stayed at home



This little piggy had  roast beef



This little piggy had none



This little piggy went wee, wee, wee, wee,  wee,wee, wee, wee, wee, wee, wee, wee all the way home.


Bath Time for Baby
A rubber duck and a sailboat;
I watch my bath toys sink and float.
They keep me company in the tub
Til Mommy makes me soap and scrub.
I love to take a bath 
each night,
And go to bed all clean and bright.
Mid
i: Bathtime