Seligor's Castle, fun for all the children of the world.
Toby Bucket
---
TOBY AND TILLY TAKE TIME OUT TO GO TO SOUTH KOREA
WITH DIDDILYDEEDOT AND DADDY PETER
Hello Toby and Tilly here to tell you all about our holiday in South Korea. We were there for 3 weeks with DiddilydeeDot and Daddy Peter and I am going to help them tell our story as wherever they went, we went. I hope you enjoy our story and pictures.
Love Toby and Tilly

Hello, it is nice, of Tilly and Toby to ask us to help tell you of theirs and our holiday in South Korea last year. We had the most fabulous time you could possibly imagine. In fact I am still finding it hard not to cry about what we left behind us.
The people first and foremost, so warm, so wonderful, helpful and full of living. Tilly and Toby also met some wonderful Jindo Dogs, Tilly cried a little as she was missing her Sweetie Pie.

 The landscape, how can I describe it, breath-taking is too small a word. In many ways it is a lot like my Welsh homeland, with Mountains and Rivers, small villages way out in the wild, yet my Wales doesn't have at the center of each mountain cluster, a city or two, skyscraper apartments, growing upwards from the road.
Toby was surprised to find that the Korean people also had lots of dogs. Most of those kept by the people who lived in the apartments kept really small dogs as pets as big ones would take up to much room and they would need lots of walks.

 The Metro, the Korean Underground stations were amazing. they all contain  huge markets, as well as the tube trains. Because DiddilydeeDot  was in her wheelchair most of the time, she found it great because there where elevators on the road side that could take the older people and the disabled down to the inner markets and tube trains, the markets ran for miles within the totally enclosed area of shall we say Busan or Gwangju, Pohang or Gyeongju. Amazing feats of architecture and design so Daddy Peter kept saying.
 We went across huge bridges that stretched from island to island, Tunnels that travel through mountain ranges for miles, and more tunnels that were under the sea connecting towns and roadways. Incredible.
We went for a huge walk one day with DiddilydeeDot and daddy Peter in a place called Tongyong, we walked from our hotel all the way round the harbour, through one of the tunnels running under the sea and after going on one of the biggest cable cars in the world , we then walked all the way back. Ooops I say we walked I should correct that my daddy Peter walked and pushed Tilly and myself  and DiddilydeeDot in the wheelchair. So many wonderful things to see, so many wonderful markets and rides, strange little buses and taxis that took us everywhere. Gosh was there ever a dull moment?  ..... No, there wasn't honest, it was fabulous.

     Cable cars that reach for miles to the top of the mountains to aid the aged and hundreds, no thousands of hikers that want to reach the pinnacle of this great country.
     That's it for our memories. DiddilyDeeDot is  making a special  holiday blog and she is going to post it to all over everywhere :)
     Have you ever travelled from the road side down into a huge market underground in a glass sided lift designed for the ancients and mums with little ones?  They are every 100 or so meters along the roadside of every large street in each and every city/town/province in South Korea.
Tilly's and DiddilyDeeDot's one huge sadness is that whilst travelling from the East to the West side, from Busan to Jindo Island, Mokpo to Gwangju, Gyeongju and back to Busan and Gimhae Airport and then back up to Gimpo, Incheon, Paris and Manchester, was that I never had a cup of tea, (don't ask, in a tea reknown for its tea there was "Nay PG Tips" ) Hot chocolate became the drink of the day, but then after the 15 hours of travelling by plane we eventually reached the Welsh border and home to Pontybodkyn and a Mug of PG Tips made with Welsh Water, oh but you better believe it, it was well worth the wait, sheer nectar  xxx .
     P.S. It wasn't all paradise, oh no!!!! Food, Food, what is this food.... believe me finding something that looked edible without it moving was very difficult and wereas in the Seoul Area etc. you have many Western, Chinese, Japanese, even Italian but not down the bottom end of South Korea, its fish, shell, fish, eels, crabs and most of them wandering round in a huge tank. I think we managed 7 meals altogether in the three weeks we were there and two of them I made myself.
A Little Note from Diddily Dee Dot and some music from South Korea
It was FANTASTIC. WE LOVED EVERY SINGLE MINUTE AND INTEND TO RETURN AS SOON AS WE HAVE SAVED ENOUGH PENNIES (an awful lot of them.) WE LOVE YOU SOUTH KOREA.
We are also hoping to take Toby and Tilly with us again., but I'm afraid Candy and Sweetie Pie weren't very happy being left on their own with Auntie Sylvia, she looked after them well but there is no one as good as Mummy and Daddy is there? ♥
TOBY BUCKET AND TILLY TEAPOT

TILLY AND TOBY SITTING UP A TREE,
TILLY SAID "TOBY WILL YOU COME FOR TEA?".
"WHAT SHALL WE HAVE THEN?" TOBY REPLIED.
"YUMMY CHEESE WITH YUMMY, YUMMY,  BREAD ON THE SIDE,"
"AND DON'T FORGET THE FRUIT, THE GRAPES AND THE DATES, "
YAPPED,  SWEETIE PIE AND CANDY SITTING BY THEIR PLATES.
"Can you tell me what fruit Candy and Sweetie Pie have forgotten to mention ?
You're right, it is the Strawberries."

Here is a lovely Blogger Site that also has a Sweetie Pie:
http://jessicapeck.blogspot.com/2011/01/valentine-candy-heart-pillows-tutorial.html
OwlstarTheGreat123
This is the first story in the Toby Bucket collection
specially written for the very young.
The Adventures of Toby Bucket.
Hello this is Toby Bucket.

He is not very big.
In fact he's quite small,


So small, that he lives in a bucket.
Can you see what colour it is?
Is it RED

, or is it

GREEN?"


Can you see Toby and his dog?
The wind is blowing hard.

                           I hope it doesn't blow poor Toby over.
                       It is starting to
rain.


                   Toby might get wet.

                  Toby has an Umbrella.

                 The rain has stopped.
                Toby is running home.
         Can you see Toby?

  Can you see Candy?
  Toby's dog is called Candy.

 Can you see Toby's bucket house?       
 A small video of two of my grandchildren, Jayden and Brody, with daughter Kayleigh and sister Sylvia. Enjoy.
Gosh I do believe my husband is in here somewhere as well, Hi Peter xxx.

What makes you think Seligor's daughter is almost as crazy as Seli herself. What she lacks in trivia she makes up in Looks and she's also a wonderful Mother, another son in December. 

Toby Bucket Meets Tilly Teapot

 Hello, here is Toby Bucket.


Toby was out side playing with Candy.

Suddenly there was a loud shout from the sky.

Candy barked and Toby ran behind the tree.


Up in the sky there was a balloon,
It was Tilly Teapot and her little dog, Sweetie Pie.
She landed her balloon by Toby's bucket house.


                     1. Can you see Tilly and Sweetie Pie?

                     2. Do you know what colour Tilly's top is?
                     3. Where did Toby hide when he saw the balloon?


Toby and Tilly Go to the Circus

Today Toby went to Tilly's Home.
 They were going to the Circus.
They went there in Toby's landrover.


There was a fair in the circus ground.
Toby won balloons for Tilly and himself





              Later on they went into the Big Top.
              Toby and Candy were asked to join the show.
               Tilly clapped very loudly for Toby


1.    Do you know what a Big Top is?


2.   Do you know what  Tilly lives in?

3.   Can you remember what Tilly's dog is called?


A FEW SMALL CRAFTY THINGS TO MAKE
WHILST OUTSIDE IS COLD AND FROSTY

Stumble It!
Not
quite
sure
what
this
was
but
there
seems
to
be
some
wonderful
colours
about.
Can
you
tell
me
what
the
colours
are?
Mr. Bucket

  Children have been playing with buckets for millenia.
But guess what. There was a new kid on the block. It's was Mr. Bucket.
Earlier this evening, apropos of nothing, I began singing the Mr. Bucket theme song. Softly at first, but then louder, more confidently. The words were popping out of my mouth like balls.
It is a truly terrible toy. Essentially, children are cleaning. Chasing after little balls with pooper scoopers. And in a
particularly Sisyphean twist, just as one thinks her task is complete, the balls pop out of his mouth.
I know you remember this commercial. Even if, like me, you never played with or even saw Mr. Bucket in the flesh. What could make such a miserable toy so

unforgettable? I'm convinced that it's the jingle. It's the sounds, not the images, of Mr Bucket that are forever etched in my mind. But what makes the Mr. Bucket jingle so
effective?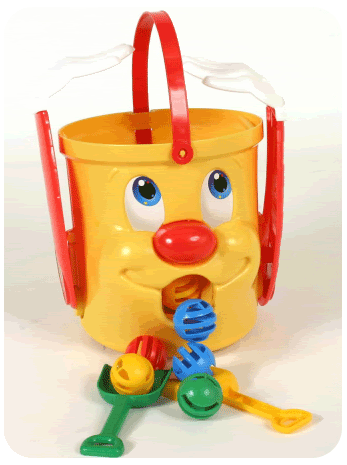 VERSE 1
I'm Mr. Bucket toss your balls in my top
I'm Mr. Bucket out of my mouth they will pop
CHORUS
 I'm Mr. Bucket!
We're all gonna run!
I'm Mr. Bucket!
Buckets of fun!
Announcer:

The game's Mr. Bucket! The first to get their balls into Mr. Bucket wins! But look out, the balls will pop out of his mouth!
That's right, I'm Mr. Bucket!

I'm Mr. Bucket! Toss your balls in my top
I'm Mr. Bucket! out of my mouth they will pop

I'm Mr. Bucket! We're all gonna run!

VERSE 2
I'm Mr. Bucket, balls pop out of my mouth
I'm Mr. Bucket, a ball is what I'm about
I'm Mr. Bucket! Buckets of fun!

I'm Mr. Bucket!
We're all gonna run!
I'm Mr. Bucket!

Buckets of fun!
What are some other jingles you'v
e found to be particularly ???
One of my sons actually loved the jingle for
Shake n Vac

AND CAN ANYONE STILL REMEMBER THE TUNE, OR EVEN THE ADVERT.

    The Horror of Mr. Bucket!!!
In the early 90s I was far too busy to watch after school cartoons. Okay...to be really honest....I just never saw this. Had I, would have been doubled over in fits of laughter for weeks...as I was in 2004 when I saw the commercial at the end of an unmarked video cassette from the period. My three year old son had no idea why I was laughing, he simply laughed along.
I was laughing because of the jingle. And YES I know I'm laughing at something that most 12 year olds laugh at. I can't help it. It's funny. I have no idea how this got on the air. Wasn't there some executive at Milton Bradley, or the ad agency that said..."shouldn't we re-word this"? I'm positive the 4 year olds the game was aimed at never caught what I caught.
 The jingle says;
I'm Mr. Bucket toss your balls in my top,
I'm Mr. Bucket out of my mouth they will pop. 

"the first to get their balls into Mr. Bucket wins.


But look out because the balls will pop out of his mouth!"
  I'm Mr. Bucket, a ball is what I'm about. 

        Hope you enjoy.
This is a fantastic way of teaching the little ones their times tables xxx

It is Saturday, Toby is having a lie in,
but not for long.

Toby is going fishing today.


After breakfast Toby and Candy got the Land Rover
out of the garage and
drove down to the river.


Toby has caught a fish! It is pulling on the line.



Do you think it will be a big  fish?
            Oh wow can you see the fish jumping?
           Goodness me it is a big fish children!
Tower, Sand and Carousels

Toby and Tilly were up really early, Aunt Maud has come over from Manchester to take care of  Candy and Sweetie Pie.


Can you guess where it is Tilly and Toby are going?
Yes, that's right, they are going on the train to Blackpool for the weekend.

They are taking  Toby's tent with them
and camping overnight.

Here they are, getting off the train. I wonder where they will go first.


Maybe down to the sands. I hope they build a sand castle.

Don't you?


Whilst they were paddling in the sea, Tilly saw a boat.
Steam was coming from its funnel.

When they went back to their buckets and spades the tide had washed the castle away.

Here they are
eating hot dogs.

Toby had
tomato ketchup
on his.

Tilly had
mustard. Yuck! Toby hates mustard.


After an ice lolly, they walked along the prom to the funfair.
They went on
so many rides but they both loved the Carousel best.
Soon it was time for them to go back to the tent.
Toby had his red sleeping
bag, and Tilly had her yellow one.



Shush now my children I think they are both fast asleep.
I wonder where they will be going tomorrow?
Toby and Tilly go to
 Chester Zoo.

http://www.chesterzoo.org/
Explore the website to find out more…..and don't forget:
By supporting Chester Zoo you are directly contributing to our conservation work at home and abroad and helping us save species from extinction.





Thank you!


Were all going to the Zoo Tomorrow

Yes it is true, Toby and Tilly are off to the Zoo. 

They got up early, Toby made some beans on toast for them and away they
went from Blackpool, all the way down to Chester on the train.

Would you believe it Toby has never been to the Zoo before. Not even when he was a little boy at School.

He was so excited. He made sure they had plenty of things to feed the animals with. Tilly said she didn't think they would be allowed though.
 (she was right, they couldn't give them their own food.)

The first place that they went to, was the monkey house. Toby wasn't
allowed to feed them, but it was their feeding time so the Zoo Keeper let them help him.
Can you see that naughty monkey it has pinched Toby's glasses.


Tilly was thirsty so they both went to the cafe for a cup of tea.
They also
had  chips and sausage with a few beans. Toby didn't realise how hungry he was.



It was fun going around all the animals especially as the last place they went was to help feed the sealions before going home.

On the train back home. Tilly and Toby sang this song.
Can you sing it with them. I'm sure Mummy or Daddy know the tune.

Diddily has put the song on the next page down, don't
 forget to sing along with Tilly and Toby. xx

And would you believe it when Toby and Tilly
 arrived home. 

Two other little animals were more than excited to see them both.

Can you tell me who they are please?
 Chester Zoo.

http://www.chesterzoo.org/

Explore the website to find out more…..and don't forget:
By supporting Chester Zoo you are directly contributing to our conservation work at home and abroad and helping us save species from extinction.





Thank you!
Going to the Zoo
(Tom Paxton)



Daddy's taking us to the zoo tomorrow,


Zoo tomorrow, zoo tomorrow;
Daddy's taking us to the zoo tomorrow,
And we can stay all day.


chorus:



 We're going to the zoo, zoo, zoo;
     How about you, you, you?
     You can come too, too, too;
     We're going to the zoo, zoo, zoo.

See the elephant with the long trunk swingin'
Great big ears and a long trunk swingin'
Snuffin' up peanuts with the long trunk swingin'
And we can stay all day.


chorus:



See all the monkeys, they're a scritch-scritch-scratchin'
Jumping around and scritch-scritch-scratchin'
Hangin' by their long tails (scritch-scritch-scratchin')
And we can stay all day.


chorus:



There's a big black bear, he's a huff-huff-puffin'
Coat's too heavy, he's a-huff-huff-puffin'
Don't get too near the huff-huff-puffin'
Or You won't stay all day.


chorus:



Well the seals in the pool all honk honk honkin'
Catchin' the fish and honk honk honkin'
Little tiny seals all (high pitched) honk honk honkin'
And we can stay all day.


chorus:





(slow

er) Well we stayed all day and I'm gettin' sleepy,
Sittin' on the train gettin' sleep sleep sleepy,
Home already and I'm sleep sleep sleepy,
And we have stayed all day.



chorus:

     

We've been to the zoo, zoo, zoo;


     How about you, you, you?


     You came too, too, too;
     We're been to the zoo, zoo, zoo.


Chorus:



Mommy's taking us to the zoo tomorrow,
Zoo tomorrow, zoo tomorrow;
Mommy's taking us to the zoo tomorrow,
And we can stay all day
MUMMY'S TAKING US TO THE ZOO TOMORROW
WE'VE BEEN TO THE ZOO, ZOO, ZOO, HOW ABOUT YOU? YOU CAME TO, TO, TO. WE WENT TO THE ZOO. OH DEAR AND WE ARE SO VERY TIRED!

Tilly and Toby have gone to Wales to take some photos for the Children at the Local School.
They have gone in Tilly's Balloon.


And because Diddily loves this song so much she has bungled it together so that Toby and Tilly will have something great to listen to when they arrive back on Sunday.
Diddily says she really doesn't know what she would do without all these wonderful youngsters who make these fantastic video's to go with the songs. They must be so talented, don't you think?
I would love to learn to do it but I think Diddily is a little old to learn animation at her age, so instead I will rely on these wonderful people who give us all so much enjoyment.
If you like this collection do subscribe to the artists on YouTube.
Diddily. xxxx


Toby Bucket and Tilly Teapot Go to School

It was early in the morning and Toby Bucket was sat at the table having his breakfast.
Today was a special day.
Toby was going to school.
Toby and Tilly had been to Wales and they were going to
show the children some photos of the mountains.

They went in Tilly's balloon.
They met up with some of Tilly's friends in their balloons.

When they arrived at Snowdon they took some pictures of the
mountains and rivers.

Can you see the picture of Wales?

Can you tell Toby and Tilly what the yellow flowers are?
Yes you are right.
They are Daffodil's.  
Here is a picture of a
little
Welsh girl
wearing her
 Welsh costume.
                          Doesn't she look beautiful?
 

Can you see all the presents Toby took in for the School?
Here was the last picture Tilly showed the children. It was of a very o
ld castle.
It is called Denbigh Castle.
This is Toby Bucket's first Photograph from Tilly's balloon, he is very proud of it. Diddily Dee Dot went to school in Denbigh.


Bye, Bye then children we
are hoping to go to
Ireland next month.

Maybe we will bring back a Leprechaun as well as some
photo's.